What do the Mediterranean and Thanksgiving have in common? They both center around family and community. There's an inherent sense of tradition. These ideals are so important to the Mediterranean lifestyle, and we can take cues from them to enhance our own family-centric gatherings. While a classic turkey may be at the center of many tables, this holiday also gives us an opportunity to create dishes — and rituals — that bring in new, wonderful flavors. To help you host the perfect Mediterranean-style Thanksgiving, we've rounded up a few of our favorite tips to create an extra appetizing holiday gathering!
Imagine: you're on the Italian coast. You meet some locals on a hike, and they invite you over for dinner. When you arrive, the entire family is there cooking, chatting, and cheersing. You can bring that same welcoming warmth, and spirit of a true family meal, to your holiday — whether it's with relatives, friends, or a bit of both.
To offer your guests a taste of the Mediterranean, try incorporating some luscious tuna. Serve a Provencal take on potatoes, packed with fresh herbs, bright lemon, and savory Yellowfin.. Another delightful dish? Cheesy tuna arancini makes for a perfectly Italian appetizer. We have several, delectable tuna-filled recipes that will help you have a memorable and tasty Mediterranean-esque Thanksgiving.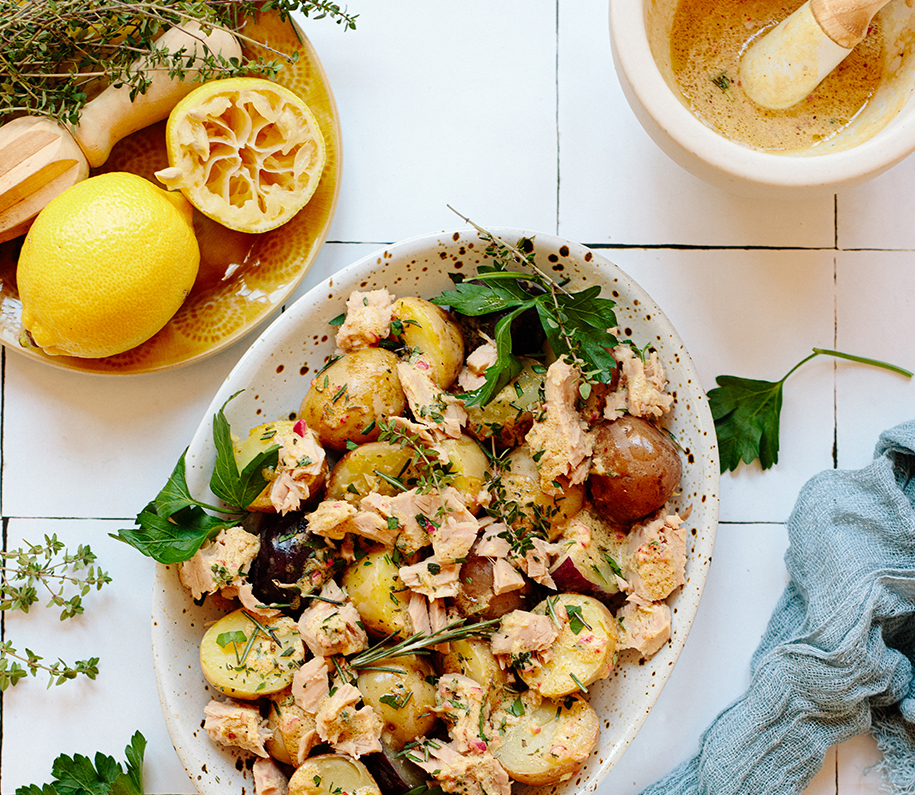 How you decorate your home is key to setting a comfortable, relaxed vibe. The secret to the Mediterranean aesthetic: keep it simple. The coastal region is known for neutrals with royal blue accents. There's a sense of ease, so instead of an elaborate centerpiece, try flowers and herbs — perhaps from your garden — in bud vases. Tapered candles add a romantic feel. A natural jute or linen table runner brings the look. Add some blue patterned napkins, use white or cream plates, and big platters and bowls for the ultimate family-style meal. Planning to eat al fresco? Hang bistro lights for an extra welcoming environment.
When you hear that the stars make you drool like a pasta fazool, that's not just amore! It's a song that transports you straight to Italy. Music helps to fully envelop guests in a party's atmosphere. If you're making a playlist, some songs we recommend are "On an Evening in Roma" by Dean Martin, "La Dolce Vita" by Nino Rota, "Ladyfingers" by Herb Alpert & The Tijuana Brass, and, of course, your favorite version "That's Amore". Looking for music that's ready to hit play? Check out this playlist.
Connectedness, relaxation, and enjoyment are distinctive parts of everyday Mediterranean lifestyle. Infuse your holiday with as much of these as you can, and take the opportunity to share your gratitude. After all, it's the Mediterranean way. Happy Thanksgiving!