Genova Yellowfin Tuna and Artichoke Pasta
This recipe can serve as an appetizer, starter or an al fresco light supper. When I use a great quality seafood product, like Genova Premium Tuna, I make sure to cook it over moderate heat. The tender, wild-caught tuna is already cooked and easy to add to any recipe, so I want to make sure I can warm it up and not overcook it to retain its delicious flavor.
By Rachael Ray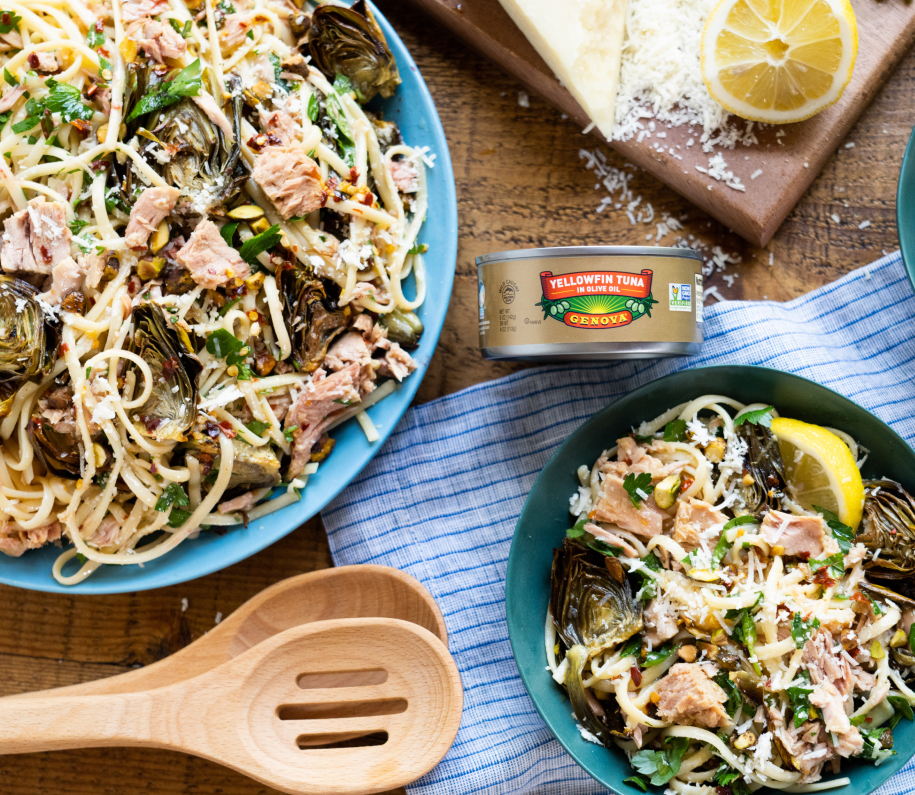 Ingredients
Artichoke Ingredients
12 small/baby artichokes (fresh) or 2 cans of artichoke hearts in water
2 lemons
3 Tablespoons EVOO, extra virgin olive oil
Salt and pepper (or red pepper)
Pasta Ingredients
    2- 5 oz. cans Genova Yellowfin Tuna in Olive Oil
    2 Tablespoons EVOO, extra virgin olive oil
    4 Tablespoons butter, cut into tabs
    4 cloves garlic, chopped
    1 teaspoon crushed red pepper, optional
    Salt
    1⁄2 cup white wine (you may use chicken or vegetable stock)
    1 pound spaghetti or linguine
    Juice of 1 lemon
    1 cup grated Pecorino Romano cheese
    1⁄4 cup chopped fresh Italian parsley, divided
    A small handful of fresh mint, chopped and divided
    1⁄4 cup toasted pistachios, chopped (or pine nuts)
Directions
Artichoke Directions
Preheat the oven to 425 F.

 

Fill a bowl with cold water and the juice of 1 lemon.
If using fresh artichokes, trim the tops of the artichokes and a few of the tougher outer leaves. Using a vegetable peeler or small paring knife, trim the stems a bit. Once prepped, cut the fresh artichokes in half. If using canned artichokes, drain well and quarter lengthwise.
Place artichokes in the lemon water.
Let soak for a few minutes, drain and pat dry on a kitchen towel.
Arrange the artichokes in a casserole or baking dish and add the juice of the remaining lemon (then quarter the lemon) and throw the lemon wedges into the dish as well.
Add the EVOO, salt and pepper (red pepper, if using).
Roast for 25-30 minutes or until tender.
Pasta Directions
Bring a large pot of water to a boil to cook the pasta.
While the water is coming to a boil, place a large skillet over medium heat and add the olive oil and butter. Add the garlic, red pepper (if using) and a sprinkle of salt and swirl a minute more. Add the white wine (or stock if using) and let reduce by half.
When the water comes to a boil, salt the water, add pasta and cook a minute less than the directions. Reserve 1⁄2 cup of the pasta cooking water before draining.
Add the artichokes into the large skillet along with the Genova Yellowfin Tuna with its oil and gently break up with the back of a wooden spoon or paddle.
Add the lemon juice and starchy pasta cooking water to the skillet along with the drained pasta, cheese, half of the parsley and mint and pistachios. Toss to combine, top with the remaining herbs and serve.
IN THIS RECIPE