Low Carb Tuna Casserole (With Cauliflower)
Tuna casserole is such a classic comfort food! It's creamy, cheesy and delicious but typically loaded with pasta and processed condensed soup! No hate on that version, but we decided it was time to re-make this dish making it gluten-free and low-carb. We tested two versions, one with pasta and one without so you can choose what amount of carbs you'd like!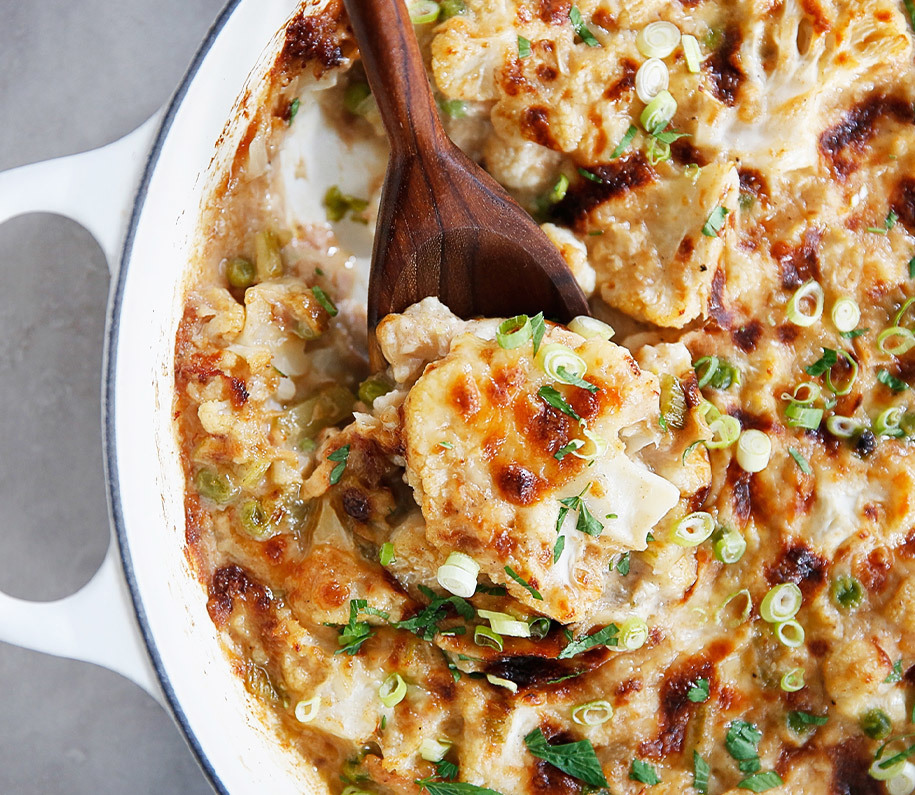 Ingredients
2 tablespoons olive oil
1 onion, diced
2 celery stalks, diced
3 cloves garlic
3 tablespoon arrowroot
2-1/2 cups cashew milk (or milk of choice)
1 tablespoon dijon mustard
1 teaspoon ground black pepper
1 teaspoon fine sea salt
1/2 teaspoon paprika
pinch cayenne (optional)
1/2 cauliflower, about 1 lb., cut into florets (For Low Carb Version use 1 whole cauliflower, about 2-2-1/2 pounds and slice into pieces about 1/4″ thick)
2 – 5 oz. cans Genova Yellowfin or Albacore Tuna in Oil, drained
6 oz. brown rice pasta, cooked al dente (For Low Carb Version Omit This)
1/3 cup frozen green peas (optional)
1 cup shredded sharp cheddar cheese, divided
scallion, for garnish
Directions
Pre-heat oven to 400ºF.
Add olive oil to a large heavy bottom pan, over medium heat. Add onion and celery cook until beginning to soften, about 5-7 minutes.
Add garlic, and cook for 30 seconds.
Sprinkle in arrowroot, and then slowly whisk in cashew milk (or milk of choice) a 1/2 cup at a time to avoid any lumps.
Add dijon mustard, salt, pepper, paprika and cayenne, if using, and whisk to combine.
Add cauliflower and simmer for 5 minutes, stirring occasionally.
Remove from heat and stir in 3/4 cup of cheese. Then add in Genova Seafood Tuna, al dente cooked pasta (Omit for Low Carb Version), frozen peas and mix to fully combine.
Pour into an oven safe dish (if not using one already) and top with remaining 1/4 cup cheese and bake until cauliflower is tender and cheese is melted, 15-20 minutes. If you want the cheese to be bubbly and slightly browned, place under the broiler for 3-5 minutes.
Top with scallions and let sit for 5 minutes before serving.
IN THIS RECIPE