The start of a new school year is equal parts exciting and overwhelming. There are new schedules to memorize, school supplies (and new clothes) to buy, and of course, lunches to pack. For many families, sandwiches are the gold standard for lunchbox fare—but if you don't switch things up, even the most dedicated sandwich lovers will eventually get bored.
This year, fend off the lunchbox blues with a little Mediterranean inspiration. If you're packing lunches for tuna lovers, these 5 Mediterranean-inspired twists on their favorite are sure to bring a smile to their face. Lunch is a meal that's always worth savoring, even when it comes from a brown paper bag.
Start the school year off right with a true classic. Our tuna salad is loaded with fresh parsley, Dijon mustard, and lemon juice for a classic Mediterranean flavor profile—but we also add pickle relish for a little twist. Whether you're making sandwiches, wraps, or a big Niçoise-ish salad, this tuna salad is the perfect centerpiece.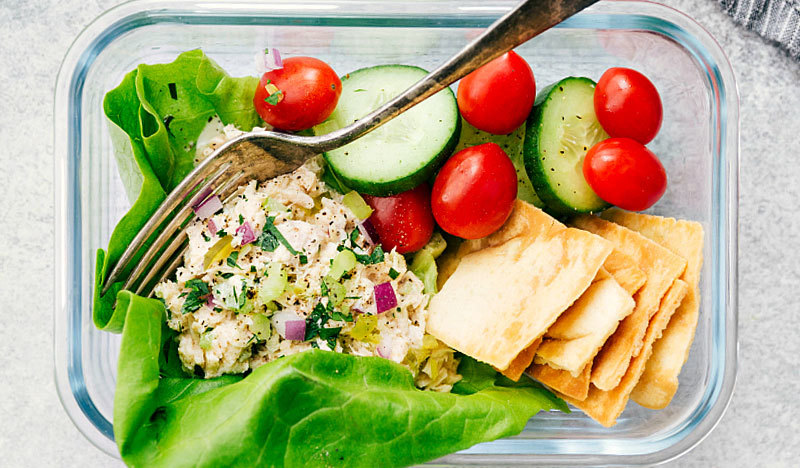 Packed with colorful veggies, lemony hummus, and our delicious Albacore Tuna in Olive Oil, these simple wraps will keep your kids full and happy all afternoon. We love this with cucumbers, bell peppers, and tomato, but feel free to swap those out for whatever veggies are most popular in your house: Leftover roasted veggies would also be delicious in these wraps, as would anything pickled.
This tuna salad is all about the fall vibes. Crisp apples, tart dried cranberries, and honey mustard make for a perfectly balanced, sweet-and-savory tuna sandwich. Try it on toasted, seedy whole wheat bread with butter lettuce and the sharpest white cheddar you can find.
As amazingly versatile as sandwiches are, sometimes you want something a little more special for lunch—like these savory tuna cakes with roasted red pepper sauce. Pack them with cheese and cut veggies for a lovely little snack plate.
This creamy, slightly spicy tuna salad is definitely a departure from the classic, which is exactly why we love it so much. Stuffed in a pita with lettuce, tomato, and onion, it's sure to spice up any lunchbox.