Temperatures have started to drop. Stores have stocked their Halloween candy. School's in session. The season's changing, and the produce is fantastic. It's extra easy to eat the rainbow! Enjoy this seasonal shift with recipes that showcase perfect tuna and produce pairings.
Peppers
Sweet, bright, and tender peppers are in their prime right now. Butter boards may be a thing, but there's something so effortless and impressive about this Tuna Romesco Salad Board. It's a real party pleaser!
Dates
What's delicious, rich in Vitamin K, and balances dishes with their sweetness? Dates…and tuna! With their flavors combined, you get bites that are both luscious and delectable. Tuna Pasta Salad with Arugula Pesto & Dates fits the bill, satisfying everyone's taste buds.
Tomatoes
It's nearing the end of tomato season, so make sure to savor this juicy and versatile fruit. Transport yourself to the Mediterranean with a bright and refreshing Mediterranean Tuna Tabbouleh. Crisp cucumbers, fresh herbs, and bulgar wheat round out appetizing fare.
Potatoes
This is about the time potatoes begin their root vegetable reign. They're inviting, filling, and great at hitting the spot. Lemony Provencal Tuna and Potatoes in Dijon Vinaigrette will flood your kitchen with the appealing aromas of the Riviera, where you can smell lemon and olive groves, and the sea.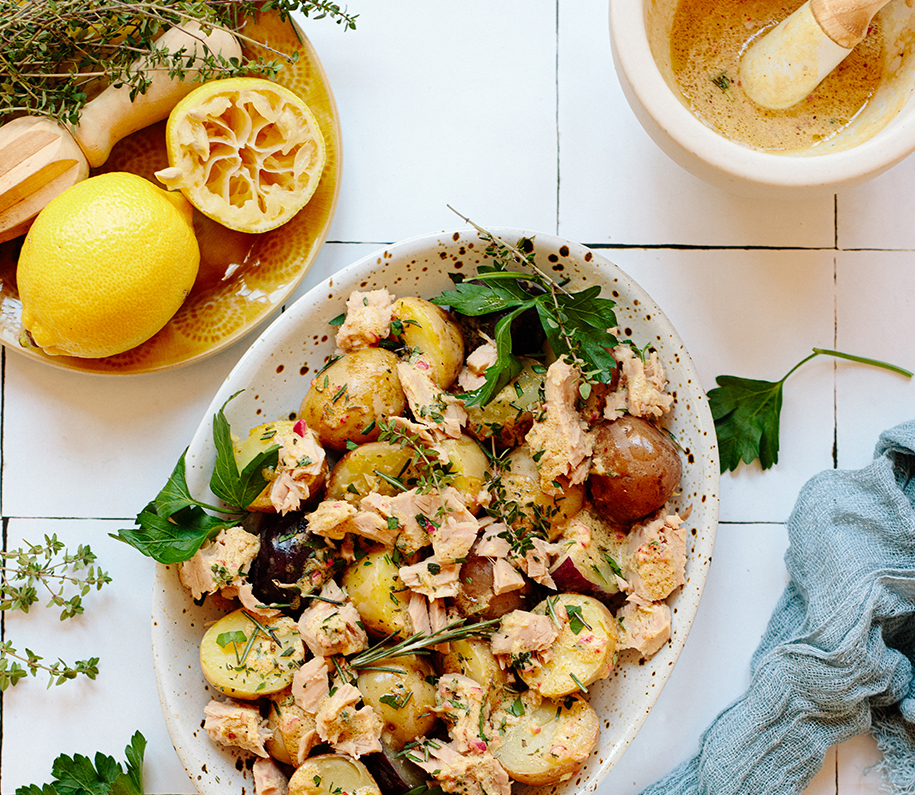 Artichoke
The nutty and herbaceous taste of artichokes lend themselves well to dishes with our rich, tender tuna. Bring the Mediterranean coast into your kitchen with a tantalizing, mayo-free tuna salad that's packed with artichoke hearts, capers, and avocado. Mediterranean Tuna Salad Flatbread is another way to enjoy the combination of artichokes and tuna. Protein and veggie-rich, this flatbread is piled high with fresh ingredients for a perfect meal.
Eggplant
This popular Mediterranean nightshade matches the meaty texture and luscious notes of our succulent tuna. Enjoy some color in these mouthwatering — and nutritious — dishes. Our Ratatouille with Tuna is wonderfully warm and inviting! Or get carried away to Italy with tasty, indulgent Roasted Eggplant with Tuna and Ricotta.