March is a transitional month—the warmth of spring isn't quite here, but winter's bitter cold is starting to defrost. This "in between" time makes deciding what to make for dinner a bit of a challenge. When we're stuck coming up with meal inspiration, we like to look to what's in season for the freshest and most flavorful ingredients. Plus, because there's more supply, seasonal produce is generally less expensive—and eating what's produced in your area is better for the environment.
So, what produce is in season now and how should you cook with it? Here are our favorites for March:
Peas
We're not talking about mushy frozen peas. Fresh peas, sometimes called English peas, are bright and flavorful—and they're also a great source of vitamin A, vitamin C, folate and fiber. When shopping for fresh peas, choose firm, medium-sized green pods with no decay or wilting. You can eat them raw—they add great crunch to salads—or lightly cooked. Their fresh, delicate taste compliments cream sauces nicely.
Try This: One Skillet Creamy Tuna Pasta  
Spinach
Early spring is a great season for leafy greens like spinach, which should be popping up at the farmer's market any day now. Fresh, young spinach is so much more vibrant and colorful than frozen, making it a flavorful base for hearty salads and the perfect addition to springy pasta dishes. And of course, spinach is also incredibly nutritious, providing lots of vitamin C, vitamin B6, iron, and magnesium.
Try This: Lemon & Herbes de Provence Tuna, Farro, Red Pepper, and Spinach Salad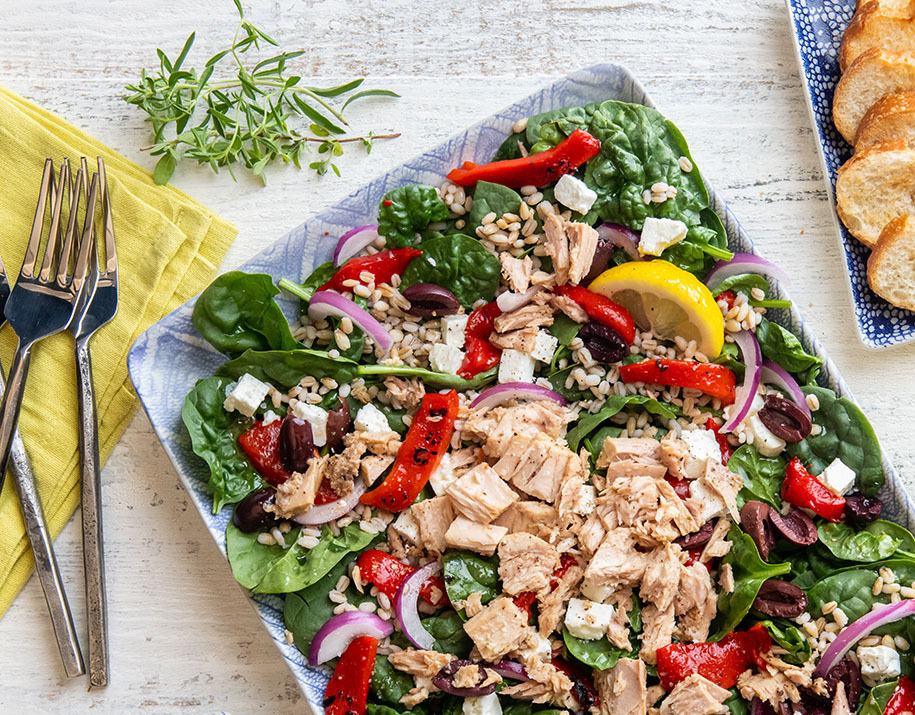 Cauliflower
White cauliflower is the most well-known, but this versatile veg comes in orange, green, and purple varieties, opening up plenty of opportunities to brighten up your meals. Cauliflower can be boiled, pickled, roasted or eaten raw, but our favorite way to use it lately is as cauliflower "rice". Simply grate in a food processor until fine and lightly sauté for a few minutes with oil and seasoning. It's a great substitute for traditional rice if you're looking for fewer carbs and more vitamins.
Try this: Low-Carb Tuna Casserole (with Cauliflower)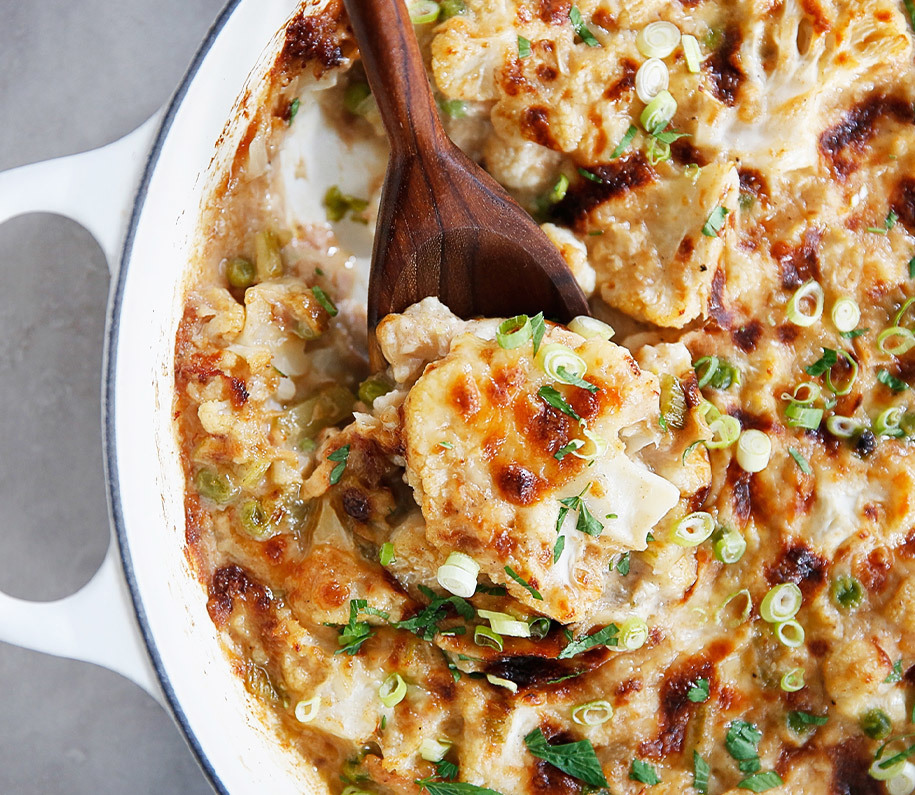 Citrus
If you live in a citrus-friendly climate, the trees in your neighborhood are probably overflowing with fruit right now. Oranges, lemons, and grapefruit are best in winter to early spring and provide a welcome punch of vitamin C during cold and flu season. We love using citrus to add tang to dressings and sauces or sliced thinly in salads. Seafood and acidic lemon notoriously pair well but we invite you to experiment with all types of seafood and citrus together.
Try this: Shaved Fennel and Tuna Salad
Mushrooms
Did you know there are over 14,000 species of edible mushrooms? It's true. While most of us stick to white buttons or creminis, a trip to your local farmer's market can expose you to more eclectic varieties (think morel, shiitake, and oyster). Mushrooms are low in calories and fat and contain over a dozen essential nutrients, including copper, potassium, magnesium, and zinc. They're also high in antioxidants like selenium and glutathione, which may lower inflammation. To prepare mushrooms, wipe them gently with a wet cloth and store in a paper bag in the refrigerator for up to three days. We love using mushrooms to add richness to hearty dishes on cold nights.
Try this: Creamy Mushroom and Tuna Gnocchi