Rich olive oil, uniquely delicious flavors, and a generous helping of Mediterranean inspiration: Our three flavor-infused tunas have it all. We start with premium whole filets of yellowfin tuna, pack them in pure olive oil, then add delicate seasonings for the perfect finishing touch. The rich flavors of olive oil, herbs, and spices enhance tuna's natural savoriness, making our flavored tunas an inspired addition to a wide range of recipes. Here are nine of our favorite ways to use our three incredible tuna flavors: Lemon & Herbes de Provence, Calabrian Chili, and Garlic & Tuscan Herb.
Yellowfin Tuna in Lemon & Herbes de Provence Infused Olive Oil
Indulge your inner culinary explorer with the bright, fresh flavors of our lemon and herbes de Provence-infused tuna. It shines in these simple, Mediterranean-inspired dishes, which make the most of fresh, seasonal produce.
Creamy, smoky baba ganoush and our lemony tuna make a gorgeous pair. Just add toasted pita bread and fresh veggies for dipping and you have an elegant appetizer.
This entrée-worthy salad puts the beautiful colors and delectable flavors of Provence on full display. Roasted red peppers, briny olives, and feta cheese.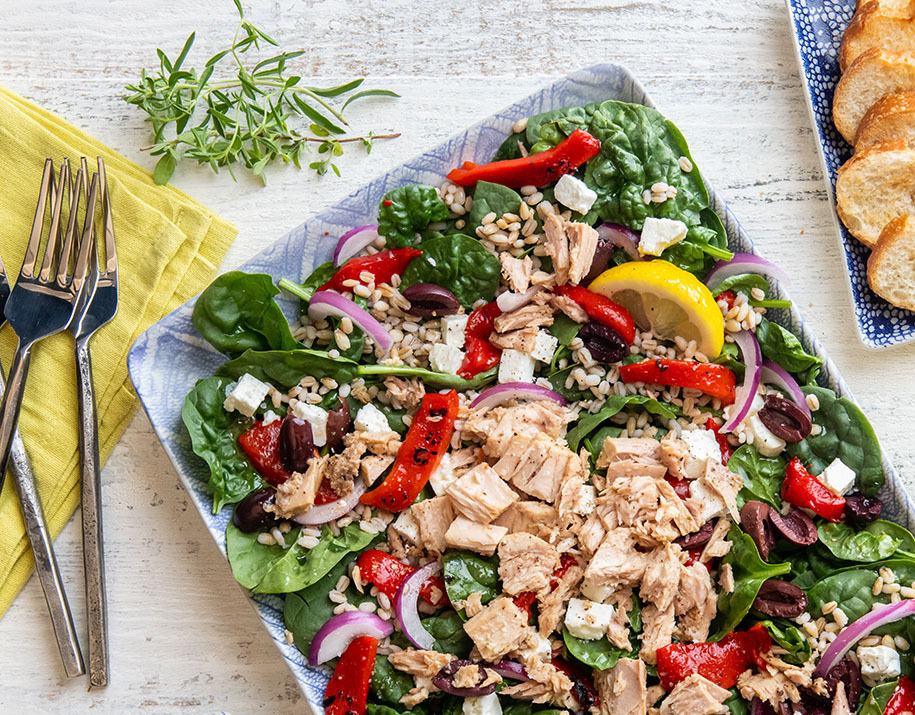 Welcome cooler weather and changing leaves with a seriously hearty salad. Julienned Brussels sprouts, pomegranate seeds, crisp apples, and crunchy toasted nuts make this a decidedly autumnal dish.
Yellowfin Tuna in Calabrian Chili Infused Olive Oil
If your idea of Mediterranean flavor involves a little heat, our Calabrian chili infused tuna is just what you've been looking for. Just ask People Magazine—they awarded this flavor Best Tinned Seafood for 2023.
Nutty lentils and spicy tuna add heft and Mediterranean flavor to this colorful, veggie-heavy salad. Balsamic vinegar adds a touch of sweetness to tie everything together, but you can use any vinegar you like.
Crisp grilled bread and an assortment of spreads are an ideal backdrop for our Calabrian chili tuna. Save the leftover oil and drizzle it over top of your crostini for a final flourish.
A quick cucumber-tomato salad and Calabrian chili tuna make this hummus platter a meal unto itself. Scoop it up with chips or toasted pita bread for a spicy, creamy, protein-packed appetizer.
Yellowfin Tuna in Garlic & Tuscan Herb Infused Olive Oil
Savory garlic, earthy Tuscan herbs, and rich olive oil give this tuna an unmistakably Italian flavor profile. We especially love it paired with tomatoes, whether they're roasted, marinated, sun-dried, or fresh from the garden.
Quick-roasted cherry tomatoes, creamy ricotta, and our flavorful tuna set this bruschetta apart. It's bright and fresh, but surprisingly substantial for an appetizer—in fact, if you serve it with a side salad, you could make a meal out of bruschetta.
A simple skillet pasta can be indulgent, too—and this creamy sun-dried tomato number is proof. Its ingredient list may be short and simple, but thanks to our Garlic & Tuscan Herb tuna, its flavors are rich, complex, and utterly satisfying.
Stuffed tomatoes are a little old-school, and we think they're overdue for a renaissance. Our take on the classic stuffed fresh garden tomatoes with a savory wild rice filling will certainly be an unforgettable side dish.